Meditation is the art of paying attention, of listening to your heart, of helping one enjoy the world more fully, more effectively, and more peacefully. I have practiced Vipassana-based mindfulness meditation for more than 30 years. I train people in mindfulness techniques and various Mussar practices, to foster self-reflection and deepen introspection. I weave creative visualization into my work with individuals and groups to help people navigate their inner landscapes.
I designed a 9-circuit labyrinth in my backyard based on the Chartres Cathedral pattern. Walking the labyrinth is a kinesthetic and whole-bodied meditation.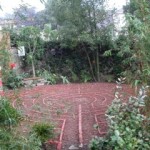 Walking the Labyrinth is a metaphor for the journey to the center of our deepest selves and our "return" into our lives with a fuller understanding of who we are. Recent research indicates that labyrinths have a positive effect on brainwave activity and neurological response. The labyrinth offers a quiet, contained space for aligning and managing stress, enhancing decision making, accessing memories and healing psychologically. It is a place for celebrating your self and connecting to the divine.
On the Labyrinth: Following the Path Home
On the labyrinth I feel a sense of peace. Getting to the center isn't what's important. All that matters is the process: what is in the moment. Meditating and moving at the same time brings me back to feeling whole.
– Labyrinth walker
Walking this pattern calms me and makes my grief bearable.
–Labyrinth walker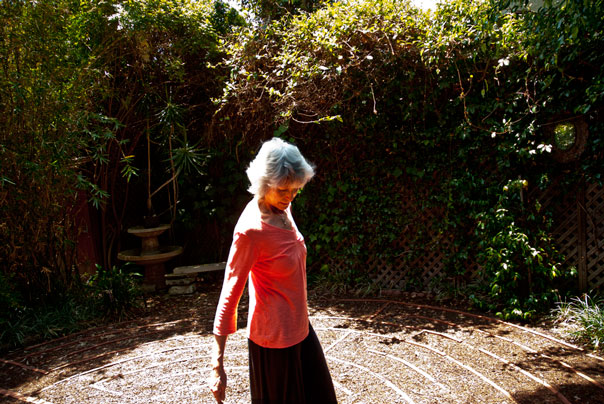 Walking the labyrinth
is only a matter of placing
one foot after the other.
Simple steps from outer edge
to the center, winding and
unwinding, round and round you go.
Take worries to the labyrinth,
and as you turn, you might
breathe them into a stone, as
the Incan Shamans teach:
one hard breath for each care.
Then leave the stone on the path,
letting go, letting go.
Or take nothing but a mind as
open as the sky. Seek nothing
but what finds its way to you.
Walk close enough to the chime
hanging from the high tree branch
and singing in the breeze.
When the birds join in,
you have a chorus.
As you walk, your breath deepens.
Prayer may come. Tears may come,
or the most mundane thought.
Sometimes the sky opens up,
and opens your heart with it.