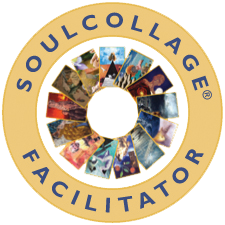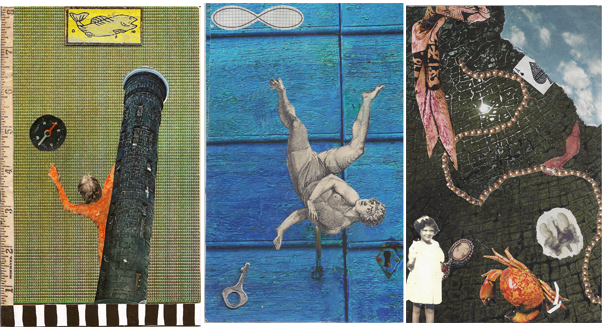 SoulCollage® is a fun and intuitive practice that combines collage with a unique journaling process. Each collage represents a separate facet of the self, including inner self-aspects, archetypal influences, and your community. Developed by psychotherapist Seena Frost, this process is a vehicle for accessing inner wisdom, and enhancing self-knowledge through psychological exploration.
The more you reveal of yourself—the more aspects of yourself dance together—the more whole you are. These aspects often reside in the hidden realms of the psyche: in the place where soul and psyche collide. They come in dreams, images, art, and in spontaneous expressions. When you pay attention to these expressions, you are able to integrate them into consciousness. SoulCollage® is a most delicious and personal portal into wholeness: an encountering and integrating of the many aspects and expressions of self.
In the words of Seena Frost:
SoulCollage® is a system for creating a deck of cards which is a visual journal…(that) will help you identify and image your diverse inner parts, the beautiful ones and shadowy ones, the easy-to-like ones, and the harder-to-like ones. You will also reflect on the external guides and allies in your life, visible and invisible, human and archetypal, and make cards for them. A SoulCollage® deck is the Story of You.
I am a trained SoulCollage® Facilitator and offer workshops that can help you access your inner richness and intuitive voice. In addition to journaling, I incorporate a poetry-writing process to deepen your relationship with your collage. Being in a SoulCollage® group is particularly wonderful, because each person's experience provides inspiration for everyone present.
SoulCollage® can be a valuable tool for therapists in their clinical practice. Read more about this in my article, SoulCollage® in Clinical Practice.

SoulCollage® is a registered trademark of SoulCollage, Inc. The SoulCollage® process is described in Seena B. Frost's book, SoulCollage® Evolving. For further information, go to the SoulCollage® website, and spend time on this fabulous site. Also visit the inspiring KaleidoSoul.